Third Commencement Undertaken Beautifully
In a colorful ceremony held on Saturday July 09/2016, Adigrat University (AdU) graduated 1855 undergraduate and postgraduate students from six colleges and 27 programs. It was a moment filled with ecstasy, joy, and jubilation. Graduates chanted in a unified and loud voice with the marsh band that played the famous melody of 'CONGRATULATIONS'. The colleges of Engineering and Technology as well as Medical and Health Sciences marked their first graduation during the day. The ten programs that had their first graduation are:
Chemical Engineering, Civil Engineering, Electrical Engineering, Mechanical Engineering, Computer Science, Nursing, Midwifery, Health Officer, Geology, and Sociology.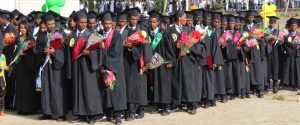 Also coming from two programs under the College of Business and Economics; namely, Master of Accounting and Finance, and Master of Business Administration, ten post graduate students received their Master's degrees during the flamboyantly held convocation.
The guest of honor, Dr. Addisalem Balema, Vice President of the Regional Government, having congratulated graduates, he underlined, in his graduation message, the need for concerted efforts towards ensuring continuity of our country's growth trajectory.
Dr. Zaid Negash, President of the University, presented the achievements and future plans of his institution. He
underscored the fact that knowledge is the only instrument of production that can ascertain development on a higher and persistent continuum.
Dr. Alem Mebrahtu, AdU Vice President, has, at the beginning, welcomed participants to the function. In the early hours of the day, a cornerstone was laid by the guest of honor marking the beginning of the construction of a Teaching Hospital, which is expected to be completed within the next few years, at the second campus of the University.
Other dignitaries present in the event were: HE Gobezay Weldearegay, Head of the regional Bureau of Education and Board Chairperson of AdU, HE Dr. Mebrahtu Meles, State Minister of the Ministry of Industry and Board Member of AdU, HE Yalem Tsegay, Administrator of the Eastern Zone and Board Member of AdU, and Dr. Kindeya Gebrehiwot, President of Mekelle University.